10:27
90+9 min Fulham can have no complaints about the goal, but they might want to know where seven minutes of added time came from.
10:27
Holding was in an offside position, but I'm not sure he interfered with play.
10:26
VAR is checking for offside! I don't think this will be ruled out.
Updated

10:26
Saka's corner from the left was headed on at the near post by the goalkeeper Ryan. It ran across the area to Bellerin, whose deflected shot was saved at full stretch by Areola. But all he could do was push the ball towards Nketiah, who knocked it into the empty net from five yards.
10:25
90+6 min Another corner to Arsenal, conceded needlessly by Decordova-Reid. Mat Ryan comes forward…
10:23
90+5 min: Chance for Arsenal! Xhaka slides a penetrative pass inside the right-back to Saka. He controls the ball on the stretch and cuts it back to Nketiah, whose close-range shot is brilliantly blocked by Reed. Great defending.
Updated

10:22
90+4 min Another corner to Arsenal. If Fulham concede now, it will shatter them. Ceballos swings the corner towards the far post, where Areola claims the ball confidently. He's been very assured today.
Updated

10:21
90+2 min When a left-wing cross is headed up in the air, Smith Rowe arrives beyond the far post and heads the ball back across the six-yard box. Robinson clears. Smith Rowe might have gone for goal there.
10:19
90 min: Good save from Areola! Nketiah lays the ball off to Martinelli in the D. He scurries to the left, away from a couple of defenders, and cracks a left-footed shot that is blocked at the near post by Areola. His positioning was excellent.
Updated

10:17
88 min Saka, the one Arsenal attacker who has turned up, cuts infield from the right and floats a beautiful curling shot towards the top corner on the far side. It beats Areola, flying desperately across his line, and drifts just wide.
Updated

10:16
87 min This has been a pretty wretched performance from Arsenal. They've been slightly better since going behind, but Areola has only had a couple of saves to make all games.
10:14
85 min Saka's pass is miscontrolled by Nketiah on the edge of the area. That was half a chance, though he had very little margin for error with the touch.
10:13
84 min Fulham have brought on Joe Bryan for Cavaleiro, which means a switch to a back five.
10:11
83 min Areola takes the opportunity to waste a bit of time after being fouled.
10:10
82 min A wicked cross from Saka on the right is put behind by the stretching Andersen. That was brilliant defending because there were two Arsenal players behind him. Saka takes the corner and Areola punches clear.
Updated

10:07
79 min Saka floats a nice long pass towards Nketiah, who controls it on the run but lofts over the bar under pressure from Andersen. A half chance at best.
10:07
78 min Martinelli accidentally kicks Lemina up the trousers. I'm surprised he wasn't booked for that.
10:05
77 min "I was touched by Gary Naylor's O-level story," says Ian Copestake, "and have duly reported him to the authorities."
10:04
75 min I didn't give Areola enough credit for that save. Replays suggest he knew plenty about it-he instinctively flicked his left leg towards the ball to block it.
10:03
74 min "Yes, football is a cesspit," says Phil Crockford. "But surely one thing that helps with the TMO being accepted is that we hear, in real time, the referee and the TMO discuss the incident, so we know exactly what is happening and why-that surely would help VAR."
I'm not sure it would. I fear the minutiae of the discussion would be twisted to facilitate even more whinging and moaning.
10:02
73 min Arsenal have played with much greater urgency since going behind. Teams do that so often, as if it hadn't occurred them to attack with intensity when it's 0-0.
10:01
71 min: How did Arsenal not score there?! Martinelli went round Areola on the right of the area. The angle was too tight to shoot so he turned and lofted a cross towards Pepe at the far post. He was barely two yards out when he headed towards goal, but Areola had scampered back across his line and made a vital save with his left leg. I'm not sure how much he knew about it, not that he'll care.
09:58
70 min Lacazette limps off to be replaced by Eddie Nketiah.
09:57
69 min Oh dear, I think Lacazette has done his hamstring. He pulled up and signalled to the bench immediately. That's a big blow-not so much today, but with the Europa League semi-final imminent.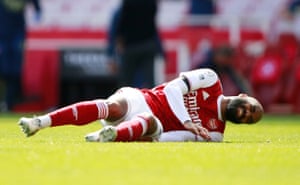 Updated

09:56
68 min A double change for Arsenal: Nicolas Pepe and Thomas Partey replace Bellerin and Elneny.
09:56
67 min Martinelli's cross is headed just wide by Bellerin at the far post. It wasn't the most convincing header, in truth-he looked like a schoolkid heading the ball for the first time. I suspect Areola had it covered anyway.